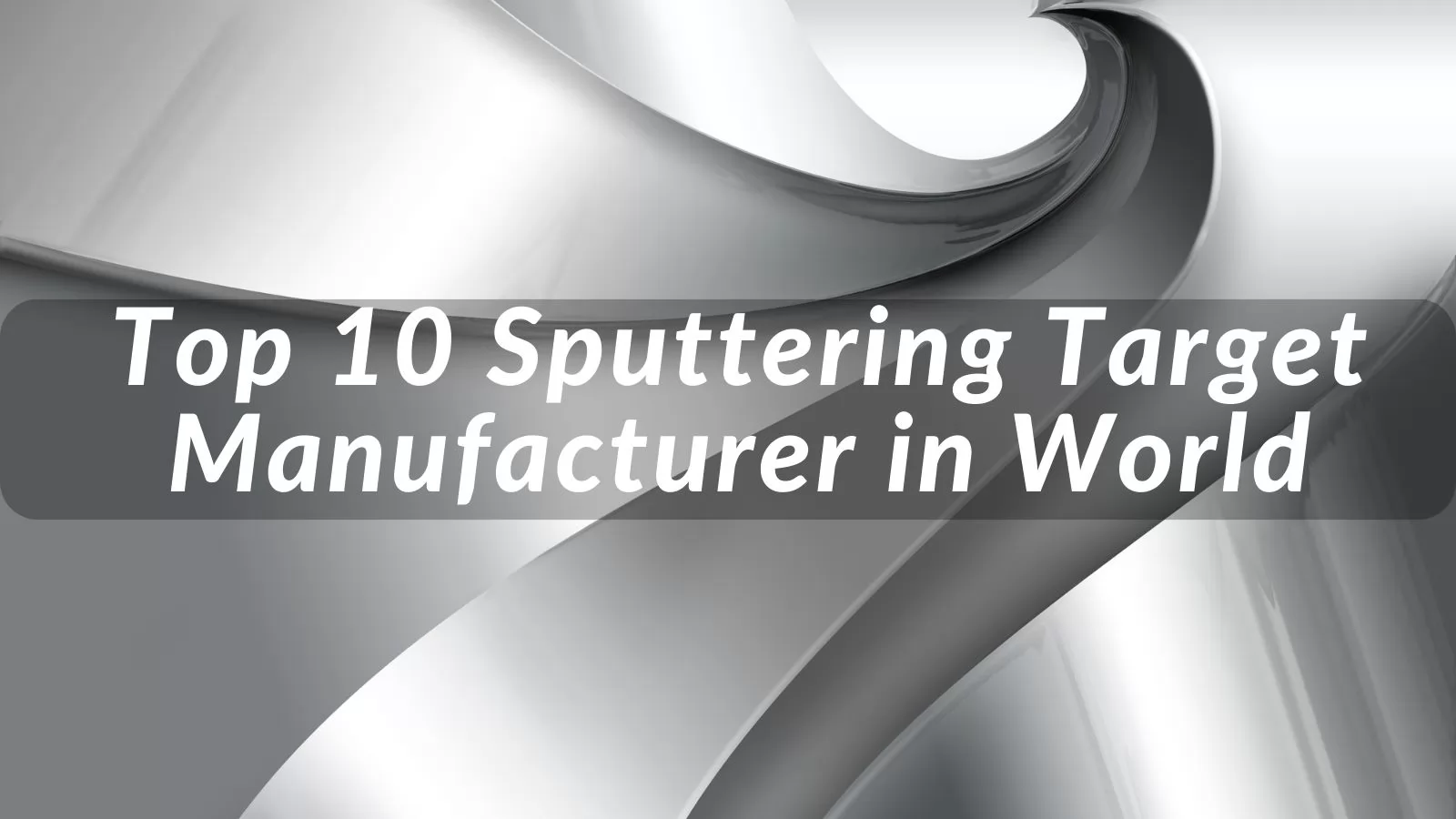 Sputtering is a physical vapor deposition (PVD) process used for depositing materials onto a substrate, by ejecting atoms from sputtering targets and condensing the ejected atoms onto a substrate in a high vacuum environment.
---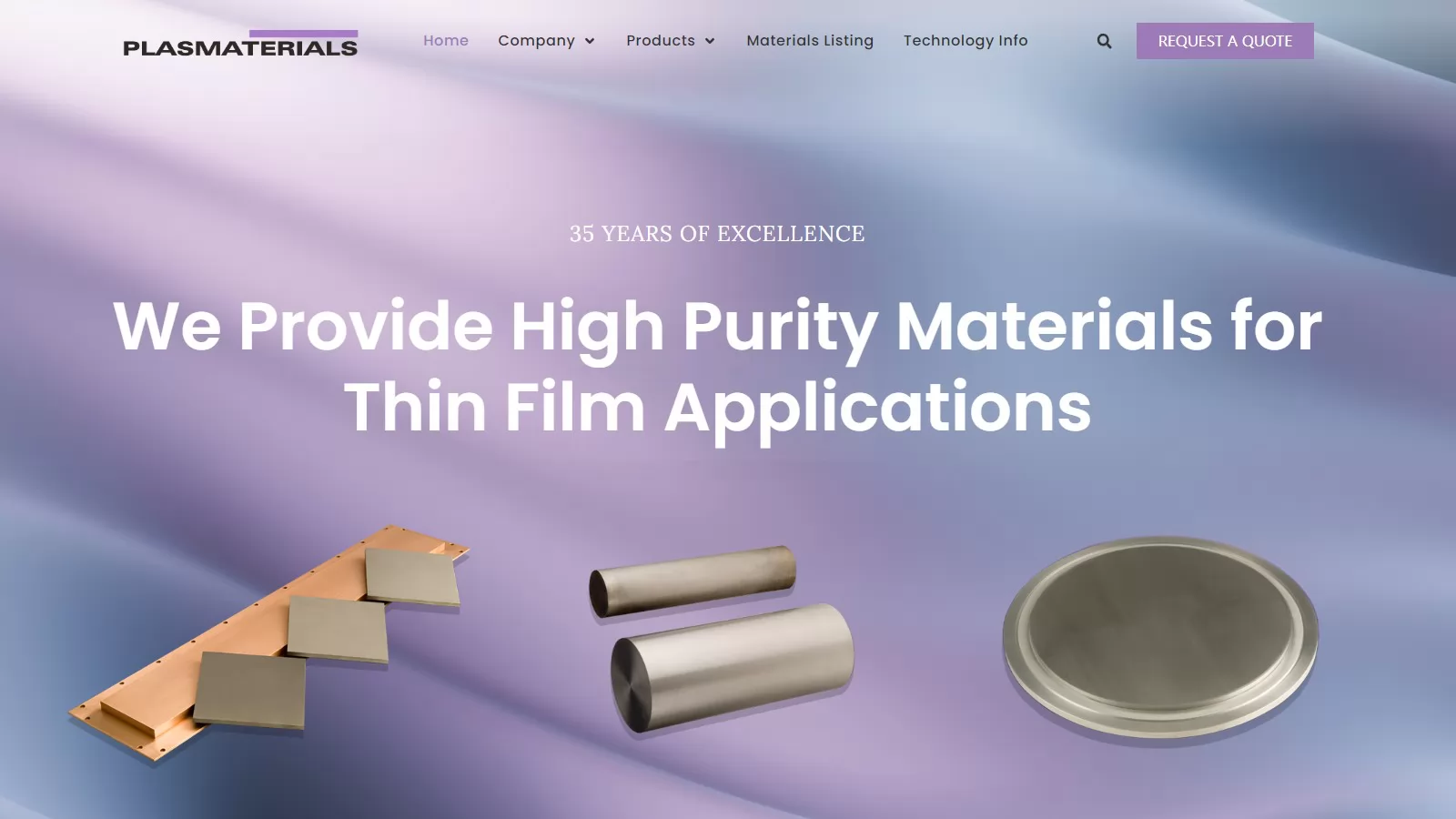 Address: 4145 Business Center Drive Fremont CA 94538 USA
Products and services: Sputtering targets of various materials, shapes and sizes; bonding services; evaporation materials; backing plates; etc.
Company introduction: Plasmaterials, Inc. is a leading supplier of high quality sputtering targets for the thin film coating industry. They offer a complete line of sputtering targets ranging from commercial grade to highest purity, zone refined Ultra-Pure grade and also provide bonding services and evaporation materials for all standard systems. They have developed unique enhanced design sputtering targets that increase target utilization and longevity. Plasmaterials have also developed a line of rotary cathode sputtering targets with advanced features and properties.
2. XinKang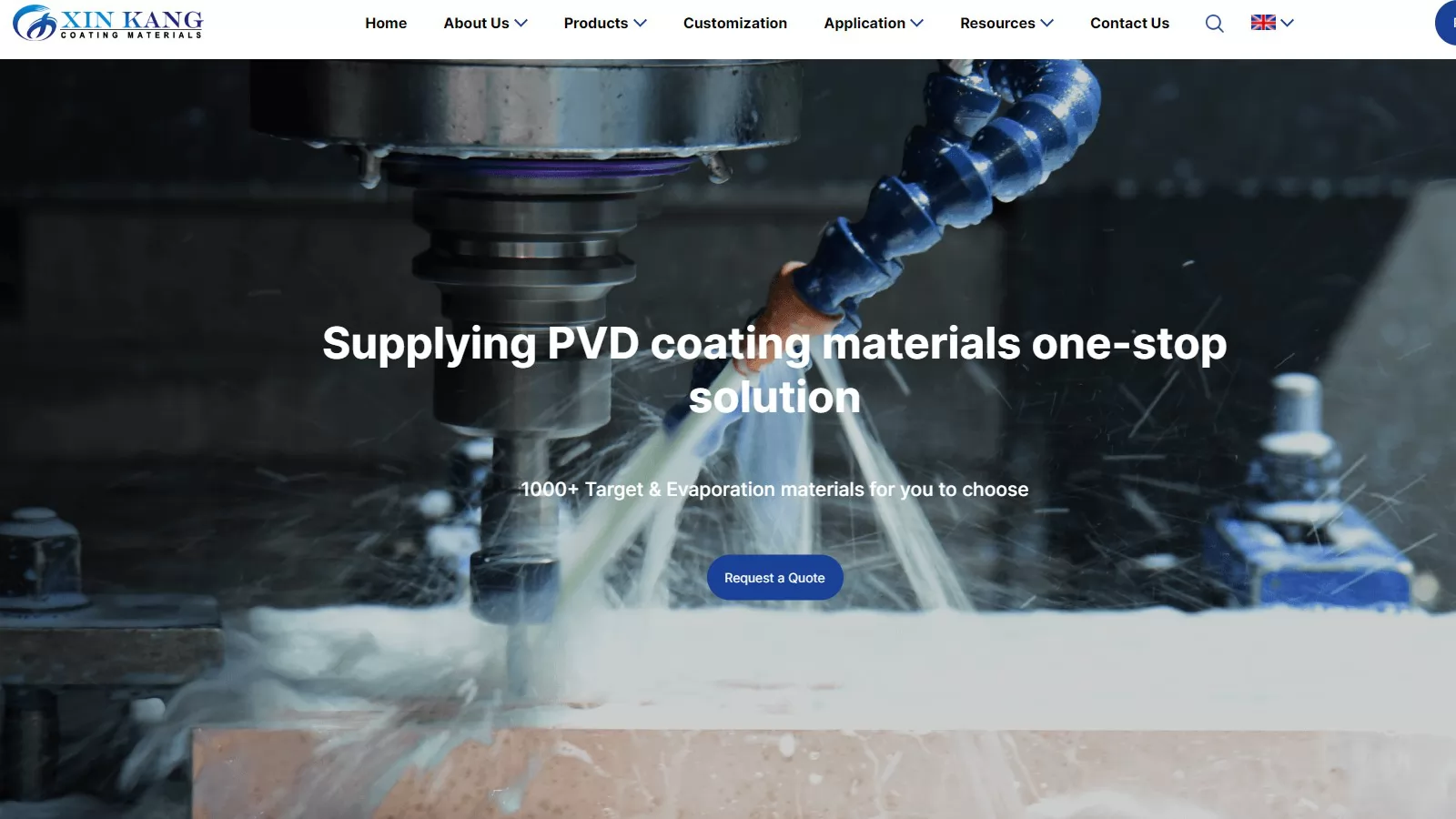 Address: 1st floor, A4-1 Building, Innovation and Pioneer Park, Yongtai Road, Liuyang YongAn town, Changsha, Hunan ,410323, China
Products: Sputtering targets, Evaporation Materials, Evaporation Sources, Bonding Service.
The industries Xinkang serves mainly include: electronic, automobile transportation, R&D industry, medical equipment and green energy, etc.
Company introduction: Xinkang focuses on the R&D and manufacturing of PVD coating materials. For a long time, Xinkang has insisted on taking technological innovation as the first core competitiveness, focusing on customer needs, and constantly optimizing the industrial structure. And Xinkang has customized services, which can achieve fast production and fast delivery.
3. Stanford Advanced Materials (SAM)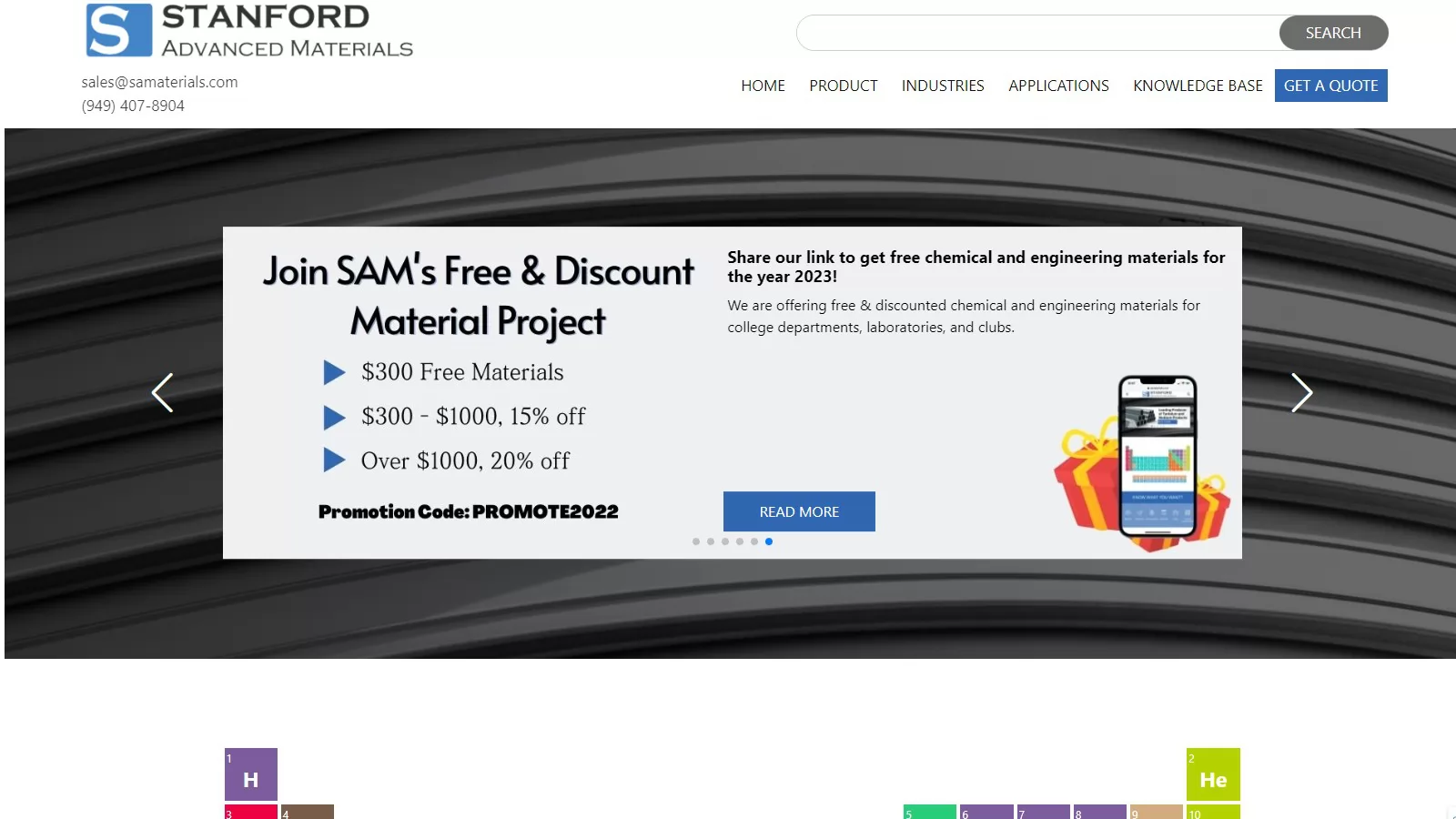 Address: 23661 Birtcher Dr. Lake Forest CA 92630 USA
Products and services: Sputtering targets; evaporation materials; target bonding services; backing plates; etc.
Company introduction: Stanford Advanced Materials (SAM) is a global supplier of high-quality sputtering targets and evaporation materials for various applications. They offer a wide range of materials, including metals, alloys, rare earth oxides and other ceramic materials. They also provide target bonding services and backing plates for different systems. They have a strong R&D team and advanced production facilities to ensure the quality and consistency of their products.
4. Materion Corporation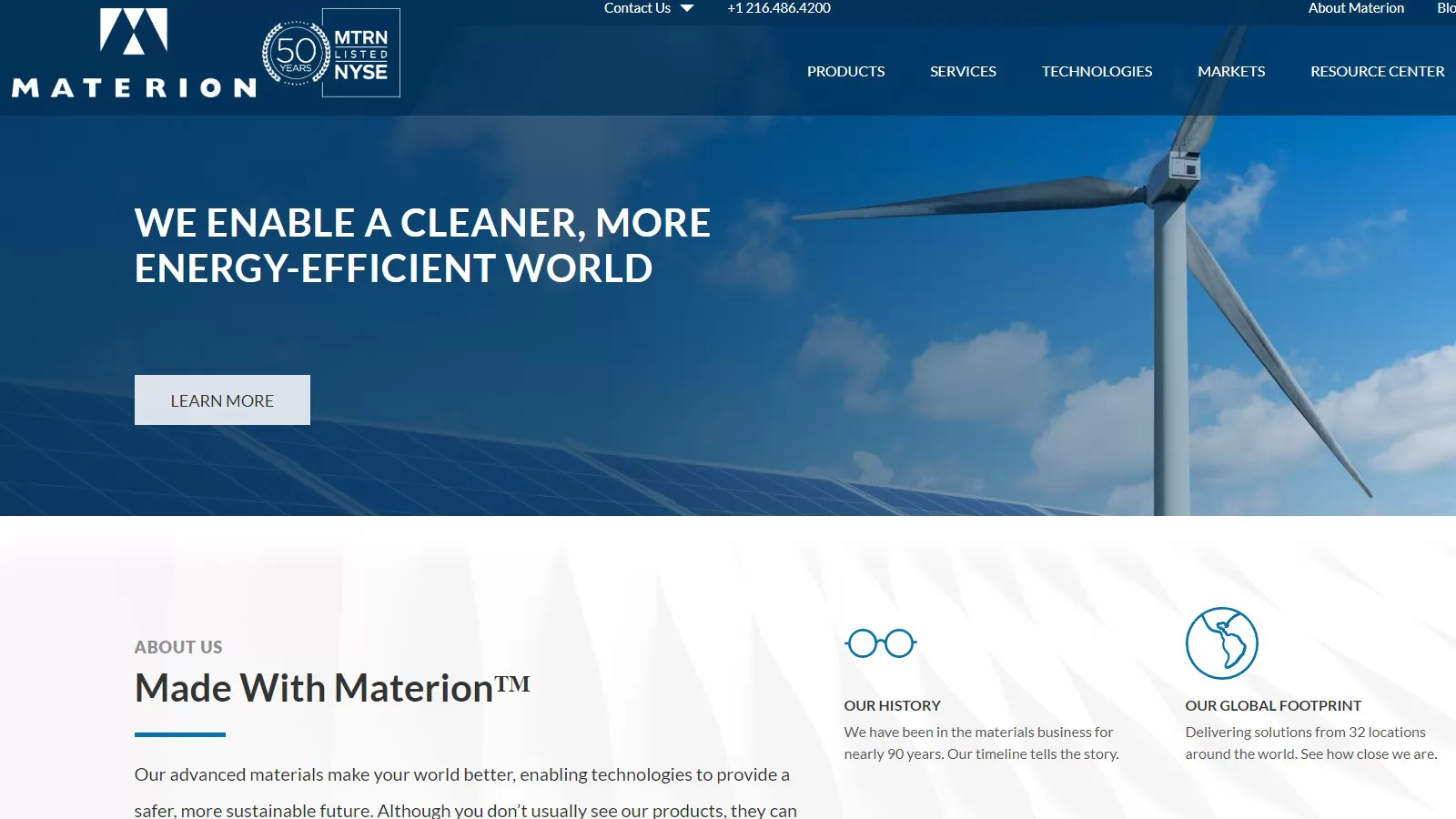 Address: 6070 Parkland Boulevard Mayfield Heights OH 44124 USA
Products and services: Sputtering targets of various materials, shapes and sizes; evaporation materials; target bonding services; backing plates; etc.
Company introduction: Materion Corporation is a world leader in advanced materials solutions for the semiconductor, display, optical and thin film coating industries. They offer a comprehensive portfolio of sputtering targets, including metals, alloys, ceramics and non-traditional materials. They also provide evaporation materials, target bonding services and backing plates for various systems. They have a global network of manufacturing facilities and service centers to meet the needs of their customers.
5. MSE Supplier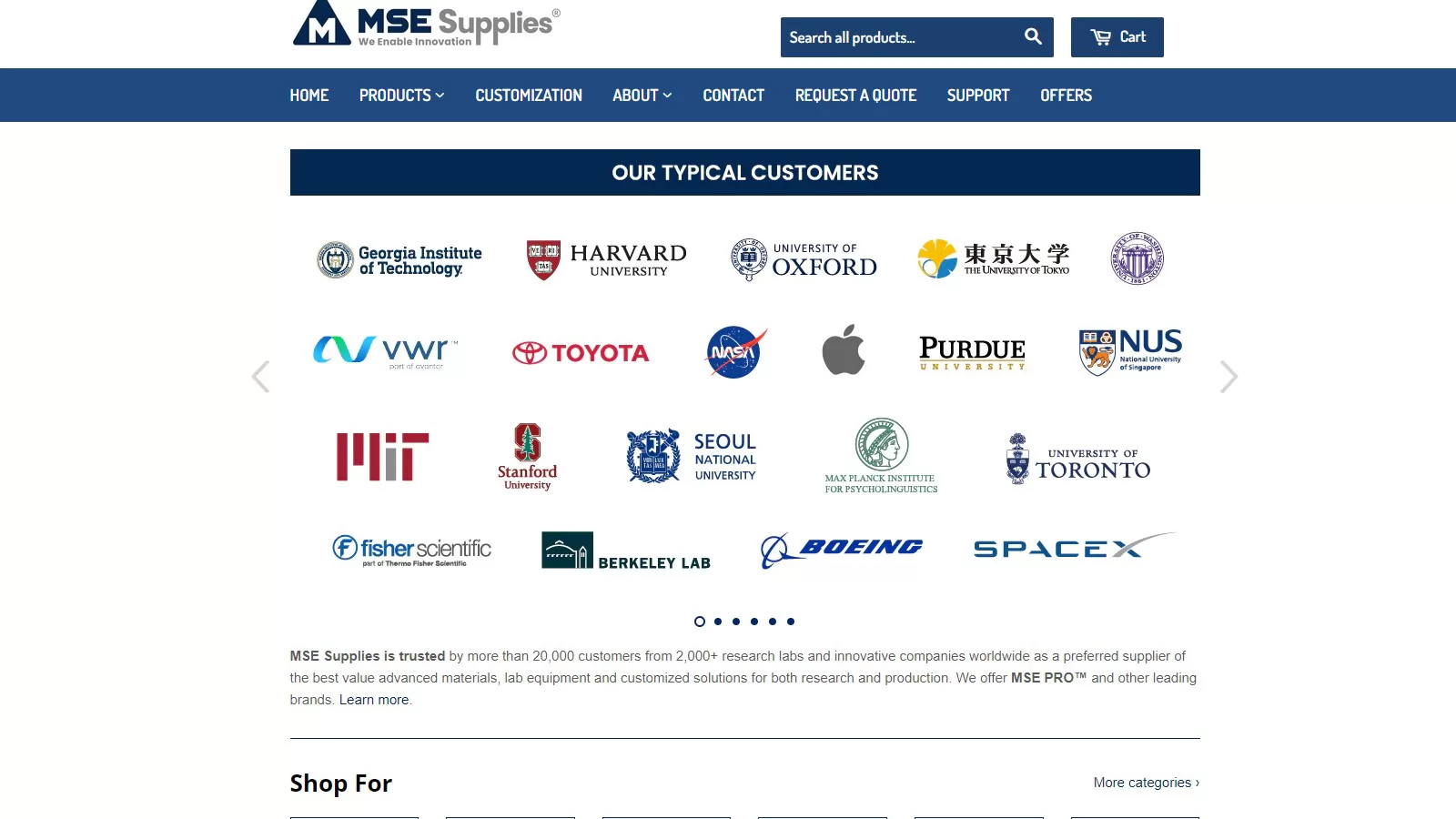 Address: 3440 E Britannia Dr, Unit 190, Tucson, AZ 85706, USA
Products and services: Provide high-quality materials, equipment and material characterization analysis services for research and production
Company introduction: MSE Supplies LLC is a U.S.-based leading supplier of advanced materials, laboratory equipment, lab supplies, and analytical services, including both standard and customized solutions, at the best value.
6. American Elements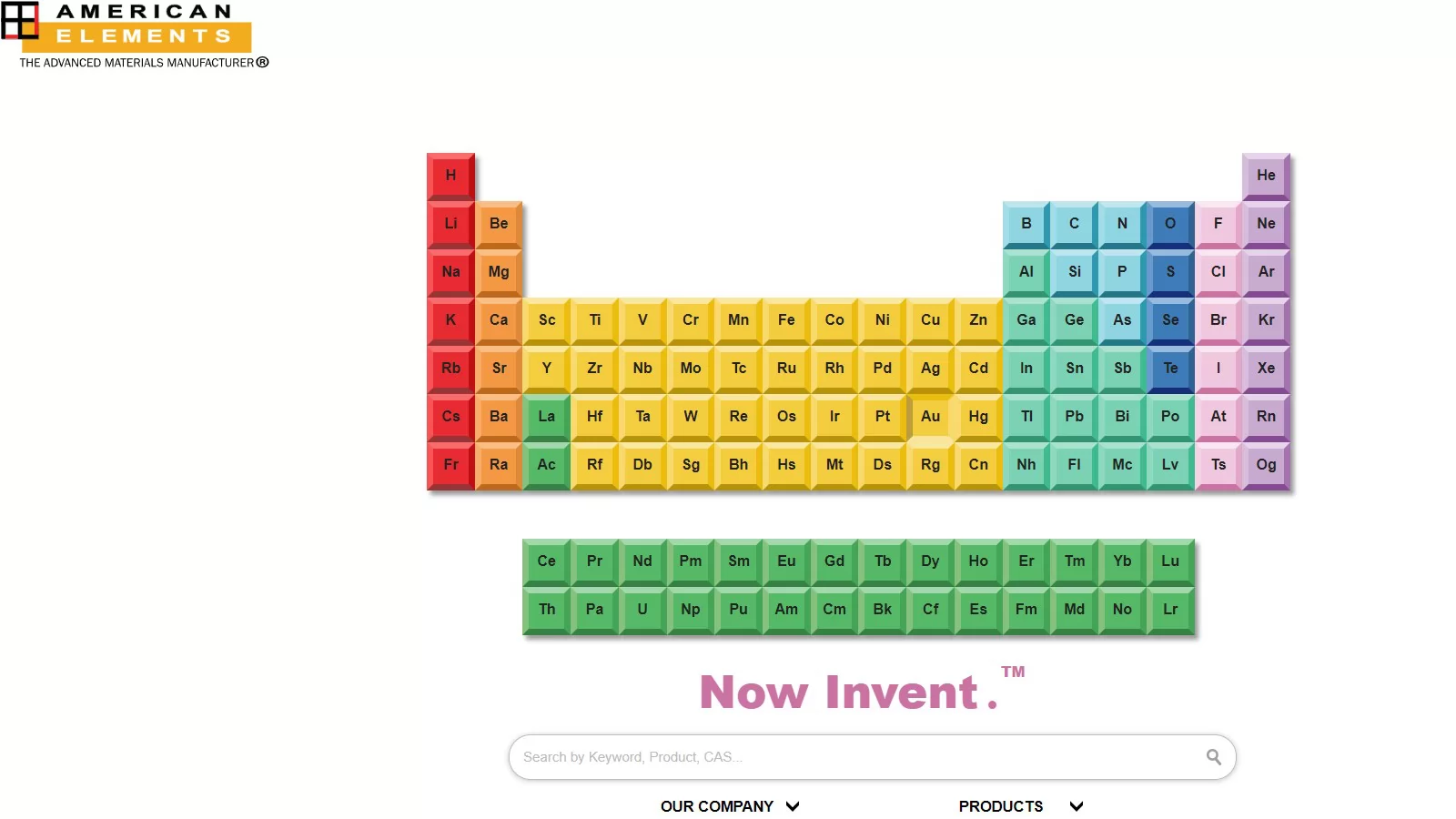 Address: American Elements 10884 Weyburn Avenue Los Angeles, CA 90024 USA
Company introduction: American Elements specializes in the production of high-density, ultra-high purity (99.9% to 99.9999%) sputtering targets and other deposition materials for all applications using vacuum melting/casting and hot isostatic pressing (HIP) techniques. Sputtering targets are available as monolithic or bonded, in sizes and configurations up to 820 mm and are produced with drilled hole positions and threads, chamfers, grooves and backings, designed to work with all standard spray guns as well as older sputtering equipment and the latest processing equipment for DC, FM, RF and HIPIMS/HPPMS sputtering technologies. Research size targets, custom sizes and alloy compositions are also available.
7. Vital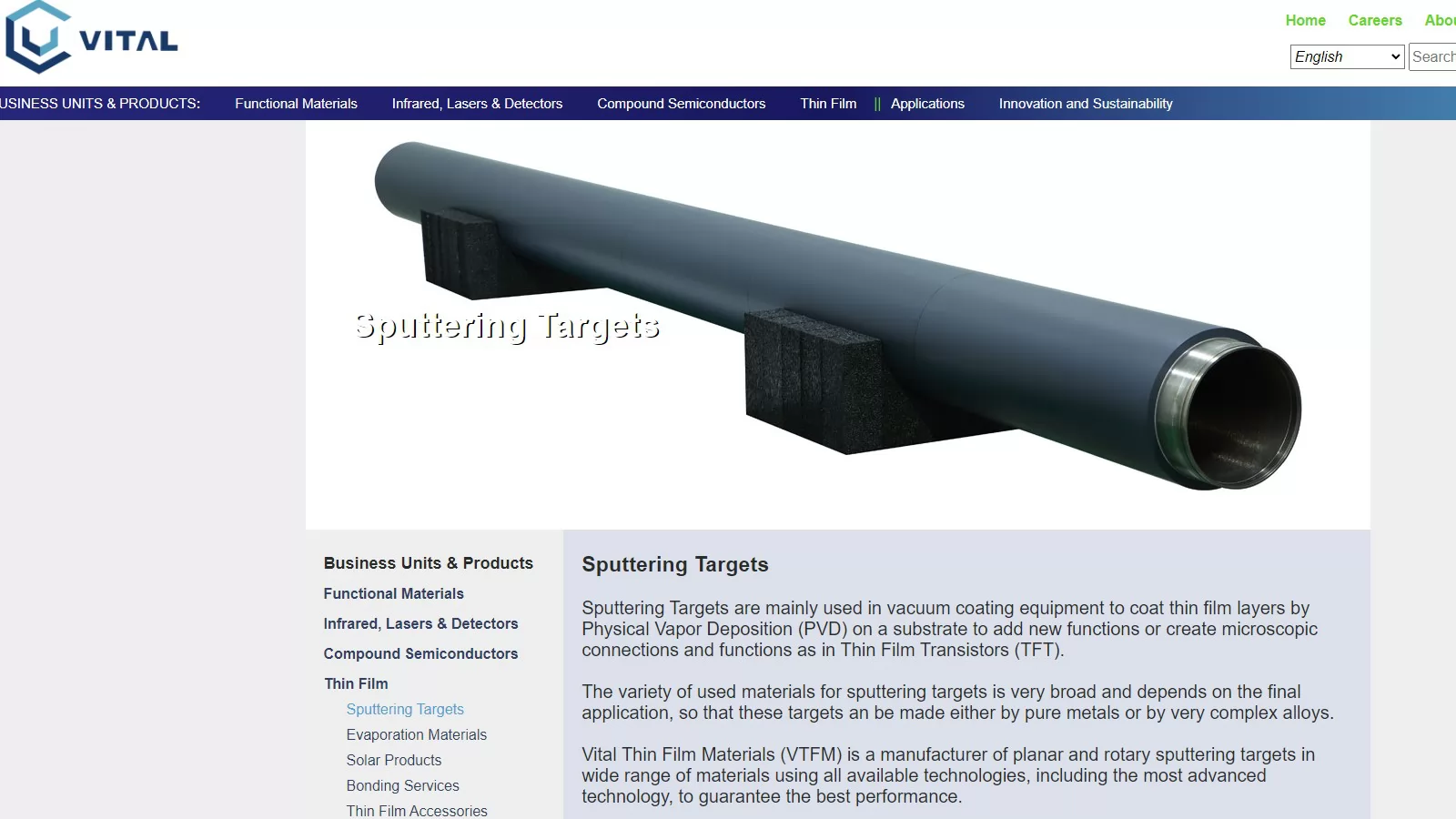 Service: Vital Materials provides materials for an extremely diverse group of markets including semiconductors, infrared and laser optics, consumer electronics, aerospace, construction, automotive, coatings, metallurgy, agriculture, and many others.
Company introduction: Vital Thin Film Materials (VTFM) is a manufacturer of planar and rotary sputtering targets in a wide variety of materials using all available technologies including state-of-the-art to guarantee optimum performance.
8. Umicore Thin Film Products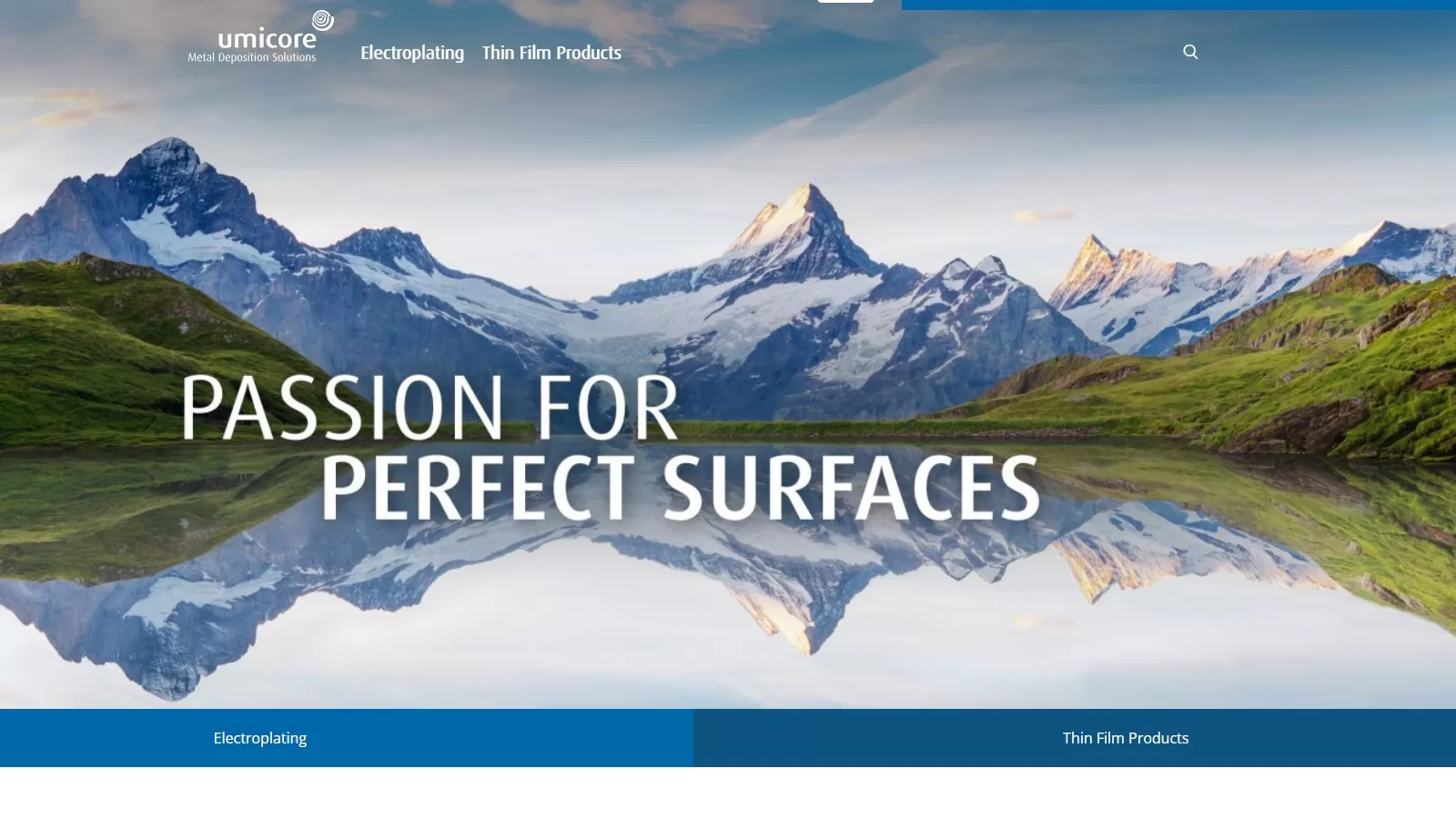 Service: Sputtering targets can be produced for of the most common sputter tool OEMs such as Evatec, Applied Materials, SPTS, Ulvac and many more.
Company introduction: Umicore Thin Film Products is one of the leading producers of coating materials for physical vapor deposition (PVD) with more than 60 years of experience in this field and covers a wide range of highly effective sputtering targets.
9. JX Metals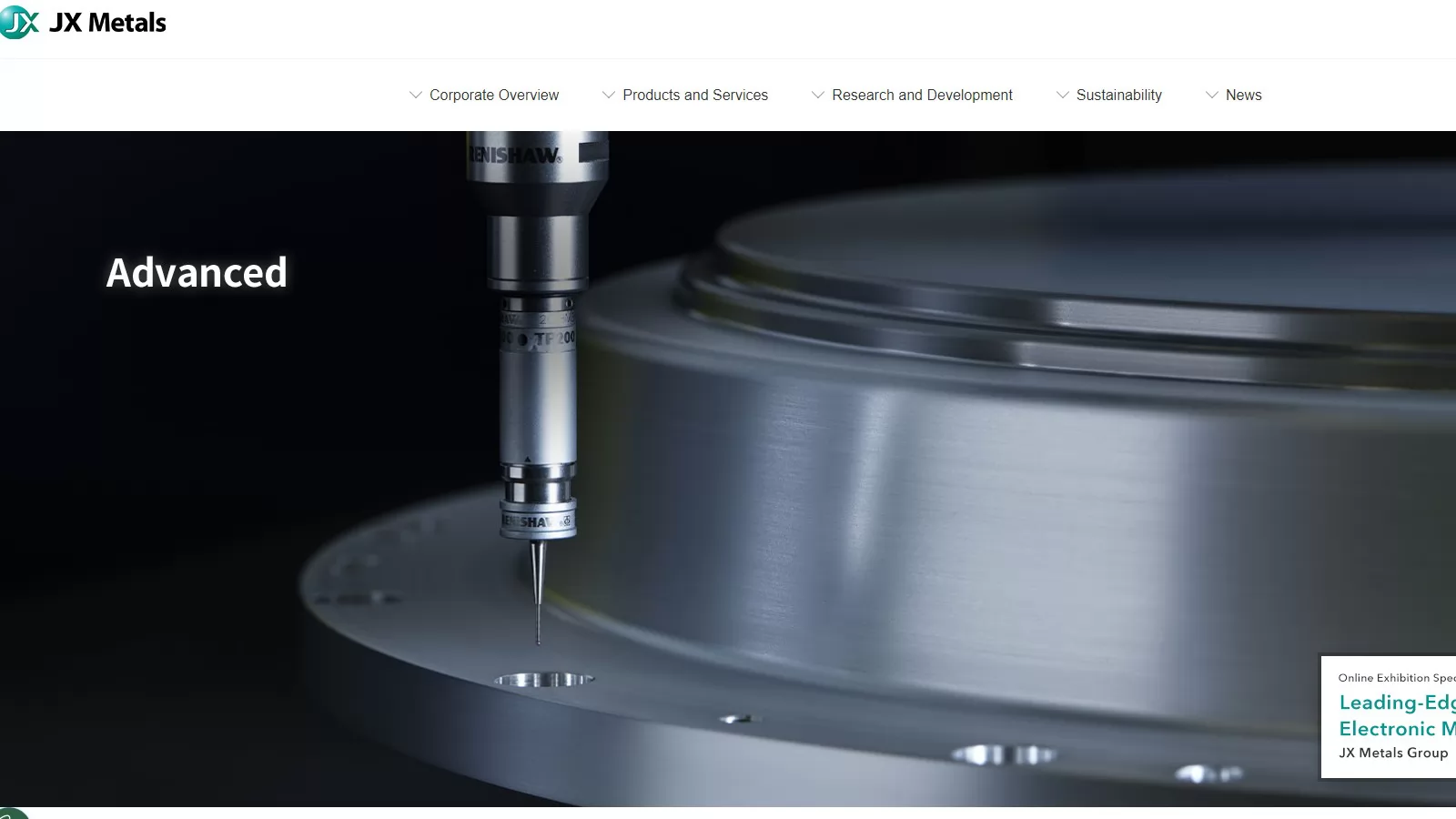 Service: Manufacturing and marketing of thin film materials such as sputtering targets, surface treatment agents, and compound semiconductor materials
Address: The Okura Prestige Tower 10-4, Toranomon 2-chome, Minato-ku, Tokyo 105-8417, Japan
Company introduction: JX Metals Corporation has broad lineup of sputtering targets for semiconductor devices, flat panel displays, hard disc drives, photovoltaic cells, and many other products. JX Metals have been providing a stable supply of high-quality products for many years.Through years of research and development along with production activities, they have built up technologies in such areas as high purification, low inclusion casting, powder metallurgy, and structure control.
10. HEXON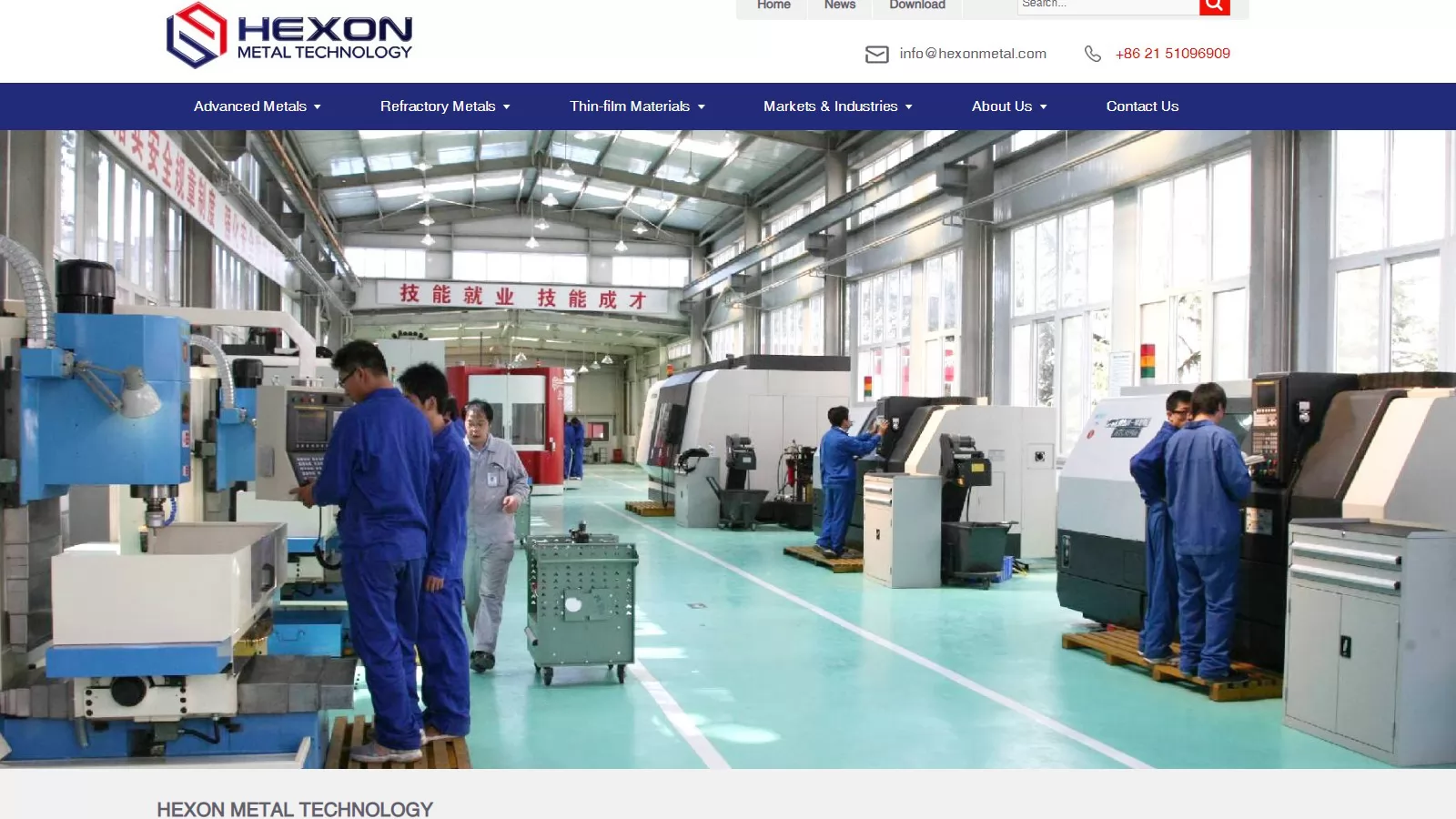 Company introduction: HEXON offers a wide range of planar and rotatable sputtering targets arraying from various metals to special alloys. They manufacture sputtering targets by using latest techniques including vacuum arc melting, vacuum induction melting, electron beam melting, powder sintering and casting. In the meantime, cold / hot isostatic pressing, rolling and extruding are also employed in targets production, in order to realize the full density, homogenous structure, uniform grain size and other customized requirements.
Conclusion
Sputtering targets, also known as sputter targets, play a crucial role in thin film deposition processes. They are used to create thin films of various materials through the sputtering technique, where high-energy ions bombard the solid target material, causing atoms or molecules to be ejected and deposited onto a substrate. These targets are essential for achieving precise and uniform thin films in industries such as semiconductor manufacturing, electronics, optics, and photovoltaics. High-purity, durable, and compatible sputtering targets ensure efficient and cost-effective thin film deposition.
If your project is looking for a sputtering target manufacturing supplier, please contact us and we will reply within 24 hours!